Basic Eligibility Questions:
Question 1
Does anyone in your household have a social security number?
Question 2
Is your monthly income before taxes less than the amount allowed?
Use the income chart above to see if your household's monthly income, before taxes and other deductions, is under the limit allowed for your household size.
If you answered YES to both questions, you may qualify for Food Assistance.
If you answered NO, you may still qualify for Food Assistance.
There are special rules for households that have people who are over 60, disabled and immigrants.
Note that the only way to be 100% sure you qualify is to submit an application.
How to Apply for Florida Food Stamps
There are 3 ways you can apply for food stamps in Florida.
Option 1 – Apply online
You can apply online through the Florida ACCESS account (as shown in the image below). If you have an account, you can log in or create your MyACCESS Account. Click here to be taken to the website.
Option 2 – Apply at DCF Office Near You
You can apply in person at the Florida Department of Children and Families (DCF) office near you. Click here to locate a DCF office.
Option 3 – Download Florida Food Stamps Application
You can download an application, complete it and mail it to your county DCF office or submit it in person.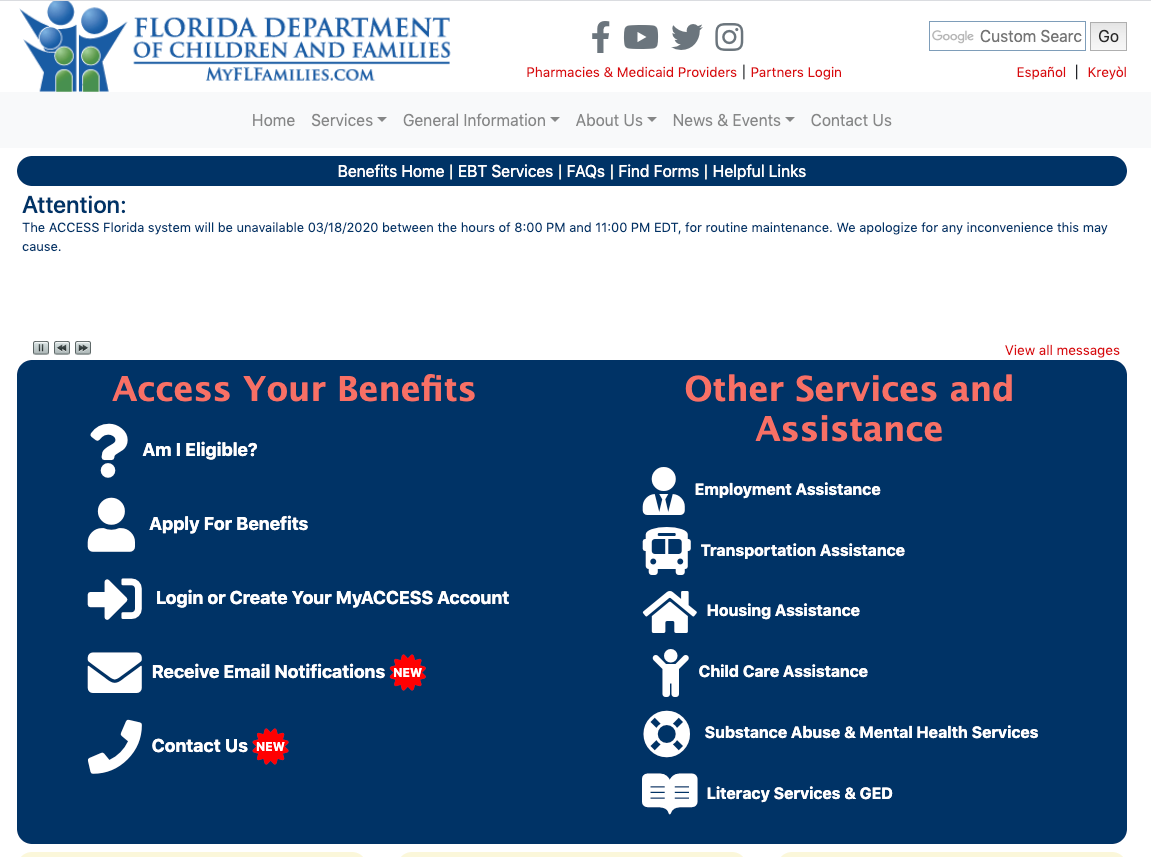 How long to get Approved for Florida Food Stamps?
Once you submit a complete application, your caseworker will schedule an interview with you to review your application information and ask any questions they may have about the information you submitted.
Generally, a decision will be made on your food stamps application within 30 days of the day you submitted a COMPLETE application.
If you sign up for email notification in your MyACCESS Account, you will receive an email alert when there is an update to your application status.
However, if you are not able to go online, the DCF will send your notices by mail.
Florida Food Stamps Work Requirement
Physically and mentally fit adults age 16 through 59 years old must register for work, accept offers of suitable work, and take part in an employment and training program when referred, if they do not meet an exemption.
Healthy adults, 18 to 50 years of age, who do not have dependent children or are not pregnant, can only get Florida Food Stamps benefits for 3 months in a 3-year period if they are not working or participating in a work or workfare program.
For more on Florida Food Assistance work requirements for Able-Bodied Adults Without Dependents (ABAWD) click here.
Do I qualify for Emergency Food Stamps in Florida?
Every food stamps application is screened for qualification for emergency food stamps.
If you meet the qualification, your application will be expedited and you may receive benefits within seven days.
The fastest way to receive emergency food stamps is to apply in person at your local DCF office. Click here to locate a DCF office.
To be eligible for expedited benefits, you must meet one of these three criteria:
Your income and money in the bank add up to less than the monthly housing expenses.
You are a migrant worker, and money in the bank is less than $10.
Your monthly income is less than $150, and money in the bank is less than $100.
If you believe you are eligible for expedited benefits but don't get them, contact your caseworker and request that your file be reviewed by a supervisor.