Last updated on 10/6/21

If you are wondering, "How much food stamps will I get", we can help you. In this post, we will explain food stamps eligibility, income limit and how to calculate how much in benefits you are likely to receive based on your household income.
This post will cover:
Food Stamps Eligibility
Food Stamps Income Limit – 2020
How Much Food Stamps Will I Get
SNAP Stamp Calculator
Food Stamps FAQs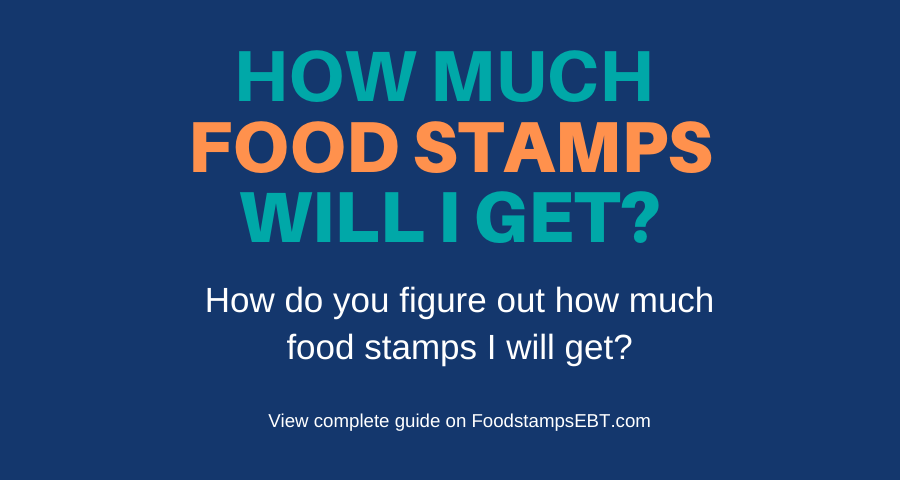 SNAP benefits allocation is based on a number of factors. Once you are approved, the amount you will receive depends on how many people are in your household and the net monthly income of your household.
There are two steps to calculating how much in food stamps you will get.
Step 1 – Determine Income Eligibility
Follow the steps below to calculate your gross income, net income and see if you meet the asset requirements.
We have also provided an example below for you to follow in calculating how much in food stamps you are likely to receive based on your household income.
To be eligible for food stamps, a household's income and resources must meet three tests:
Eligibility Test 1 – Gross monthly income
The first test you must meet in order to be eligible for SNAP benefits is the gross income test.
Gross income is a household's income before any applicable deductions are applied.
Generally, this must be at or below 130 percent of the poverty line.
For a family of three, the poverty line used to calculate SNAP benefits in the federal fiscal year 2020 is $1,778 a month.
Therefore, 130 percent of the poverty line for a three-person family is $2,311 a month, or about $27,700 a year.
The poverty level is higher for bigger families and lower for smaller families.
Eligibility Test 2 – Net monthly income
The second test is the net income test.
A household's Net income, or income after deductions are applied, must be at or below the poverty line (100 percent of the poverty line).
See the food stamps income limit table below for a complete chart on gross and net income requirements based on the number of people in a household.
What is Considered Income for food stamps?
The following counts as income under food stamps:
Cash income from all sources, including earned income (before payroll taxes are deducted) and unearned income, such as cash assistance, Social Security, unemployment insurance, and child support.
Eligibility Test 3 – Assets
The final test you must meet is the Assets test.
Your household assets must fall below certain limits. Households without a member who is elderly or has a disability must have assets of $2,250.
However, households with an elderly or has a disabled person must have assets of $3,500 or less.
What are considered assets for food stamps?
Generally, resources that could be available to the household to purchase food, such as amounts in bank accounts, count as assets.
Items that are not accessible, such as the household's home, personal property, and retirement savings, do not count. Most automobiles do not count
Note that states have the option to relax the asset limits, and many have done so.
Therefore, check with your state's food stamps agency for details on what the asset requirements are for your state.
As mentioned, the food stamps income limit is determined as a percentage of the National Poverty Guidelines as issued by the Department of Health and Human Services (HHS).
Below is the most current national poverty guidelines, followed by the complete 2020 Food stamps income limit.
2019 Federal Poverty Guidelines 
| Number of People in Household | 48 States & DC | Alaska | Hawaii |
| --- | --- | --- | --- |
| One | $12,490 | $15,600 | $14,380 |
| Two | $16,910 | $21,130 | $19,460 |
| Three | $21,330 | $26,660 | $24,540 |
| Four | $25,750 | $32,190 | $29,620 |
| Five | $30,170 | $37,720 | $34,700 |
| Six | $34,590 | $43,250 | $39,780 |
| Seven | $39,010 | $48,780 | $44,860 |
| Eight | $43,430 | $54,310 | $49,940 |
| For nine or more, add this amount for each additional person | $4,420 | $5,530 | $5,080 |
Based on the National Poverty guidelines above, the following food stamps income limit chart is calculated by the USDA.
Net income means gross income minus allowable deductions.  Gross income means a household's total, non-excluded income, before any deductions have been made.
Under Federal law, all income is counted to determine eligibility for SNAP unless it is explicitly excluded.
Food Stamps Income Limit – 2020
SNAP Income Eligibility Limits – Oct. 1, 2019, through Sept. 30, 2020
Household Size
Gross monthly income
(130 percent of poverty)
Net monthly income
(100 percent of poverty)
1
$1,354
$1,041
2
$1,832
$1,410
3
$2,311
$1,778
4
$2,790
$2,146
5
$3,269
$2,515
6
$3,748
$2,883
7
$4,227
$3,251
8
$4,705
$3,620
Each additional member
+$479
+$369
* SNAP gross and net income limits are higher in Alaska and Hawaii.
What deductions are allowed for Net Income?
To calculate your household's net income, you have to subtract allowable deductions from your household's gross income.
The following deductions are allowed for SNAP:
A 20-percent deduction from earned income.
A standard deduction of $167 for household sizes of 1 to 3 people and $178 for a household size of 4 (higher for some larger households and for households in Alaska, Hawaii, and Guam).
A dependent care deduction for the out-of-pocket childcare or other dependent care expenses that are necessary for a household member to work or participate in education or training;
Medical expenses for elderly or disabled members that are more than $35 for the month if they are not paid by insurance or someone else.
In some states, a child support deduction for any legally obligated child support that a member of the household pays
In some states, a standard shelter deduction for homeless households of $152.06.
Excess shelter costs as described below.
Food Stamps Excess Shelter Costs Deduction
The shelter deduction is for shelter costs that are more than half of the household's income after other deductions.
Allowable shelter costs include:
Fuel to heat and cook with.
Electricity.
Water.
The basic fee for one telephone.
Rent or mortgage payments and interest.
Taxes on the home.
Some States allow a set amount for utility costs instead of actual costs.
The amount of the shelter deduction is capped at (or limited to) $569 unless one person in the household is elderly or disabled.
The limit is higher in Alaska, Hawaii, and Guam.
For a household with an elderly or disabled member, all shelter costs over half of the household's income may be deducted.
How Much Food Stamps Will I Get?
The total amount of food stamps benefits your household gets each month is based on your income and number of people in your household.
The federal government expects SNAP households to spend about 30 percent of their own resources on food.
Therefore to determine how much in food stamps you will receive if you apply, you have to multiply your household's net monthly income by 0.3.
After that, subtract the result from the maximum monthly allotment for your household size using the table below
Note: The total amount of SNAP benefits your household gets each month is called an allotment.
Food Stamps Maximum Monthly Allotment Based on Household Size
| People in Household | Maximum Monthly Allotment |
| --- | --- |
| 1 | $194 |
| 2 | $355 |
| 3 | $509 |
| 4 | $646 |
| 5 | $768 |
| 6 | $921 |
| 7 | $1,018 |
| 8 | $1,164 |
| Each additional person | +$146 |
Note: The allotments described here are for households in the 48 contiguous States and the District of Columbia.
The allotments are different in Alaska, Hawaii, Guam, and the U.S. Virgin Islands.
Step 2 – SNAP Calculator
The example below is provided to help you calculate how much food stamps you are likely to receive based on your income, assets, allowable deductions and household size.
The example uses a family of 3.
Example: Calculating a Household's Monthly SNAP Benefits
Consider a family of three with one full-time, minimum-wage worker, two children, dependent care costs of $77 a month, and shelter costs of $941 per month.
Here are the steps to calculate how much in food stamps this family will receive.
Step 1 — Gross Income:
The federal minimum wage is currently $7.25 per hour. Full-time work at this level yields monthly earnings of $1,256.
Step 2 — Net Income for Shelter Deduction:
Begin with the gross monthly earnings of $1,256.
Subtract the standard deduction for a three-person household ($167), the earnings deduction (20 percent times $1,256, or $251), and the childcare deduction ($77). The result is $761 (Countable Income A).
Step 3 — Shelter Deduction:
Begin with the shelter costs of $941. Subtract half of Countable Income A (half of $761 rounds to $381) for a result of $560.
Step 4 — Net Income:
Subtract the shelter deduction ($560) from Countable Income A ($761) for a result of $201.
Step 5 — Family's Expected Contribution Towards Food:
30 percent of the household's net income ($201) is about $60.
Step 6 — SNAP Benefit: The maximum benefit in 2019 for a family of three is $509. The maximum benefit minus the household contribution ($509 minus $60) equals about $449.
The family's monthly SNAP benefit is $449.
Food Stamps FAQs
These are the most commonly asked questions about food stamps eligibility from our readers.
Food Stamps Eligibility Questions
What if I own a car? You can own a car and still qualify for Food Stamps.
What if I have a job? You can have a job and still qualify for Food Stamps.
What if I own my home? You can own the home you live in and still qualify for Food Stamps.
What if I am homeless? You can qualify for Food Stamps even if you do not have a home, address, or place to cook. People without homes can often get benefits within three days.
Can I qualify if I do not have a family? Individuals can qualify for Food Stamps. You do not have to have children to qualify.
Can I get Food Stamps if I am in the military? If you meet the eligibility requirements you can qualify for Food Stamps if you are in the military.
Can I get Food Stamps if I'm in college? You may be able to qualify. Even if you do not qualify, others in your household may.
What are some characteristics of SNAP households?
Here are some characteristics of households on food stamps across the country.
Approximately two-thirds of SNAP participants were children, elderly, or had disabilities.
44% percent of participants were under age 18
13 percent were age 60 or older
Nearly 10 percent were disabled, nonelderly adults.
Nearly 8 percent of participants were able-bodied adults age 18-49 in childless households.
More than 44% are in working families
The average SNAP household income was 63 percent of the poverty line.
Only 19 percent had gross income above the poverty line
38 percent had income at or below half the poverty line.
Average gross income for all SNAP households was $836 per month
92 percent of SNAP households did not receive cash welfare benefits.
Only 5 percent of all SNAP households received Temporary Assistance for Needy Families (TANF) benefits, and only 3 percent received State General Assistance benefits.
Nearly 29 percent of SNAP households received Social Security
22 percent received Supplemental Security Income benefits given to the aged and disabled.
The average SNAP household received $245 in monthly benefits.
About 37 percent of SNAP households received the maximum benefit for their family size.
Nearly 23 percent of monthly funds (gross income plus SNAP benefits) came from SNAP.
81 percent of SNAP households lived in or near large cities, while about 10 percent lived in or near smaller cities and towns and nearly 7 percent lived in rural areas.
In 1992, 40 percent of all SNAP households received Federal cash welfare benefits and 20 percent had earnings. In 2017, only 5 percent received Federal cash welfare, while 31 percent had earnings.
What is the breakdown of SNAP by Race?
According to demographic data, 39.8% of SNAP participants are white, 25.5% are African-American, 10.9% are Hispanic, 2.4% are Asian, and 1% are Native American.
Can someone else apply for Food Stamps for me?
Yes, if you authorize someone to act on your behalf.
It can be a friend, relative, a person with power of attorney, or person appointed by the courts.
You need to provide information about this person on your application.
This person will then be approved as your authorized representative.
They can then contact your worker, attend interviews for you, complete forms, provide documents, file appeals and receive your food benefits to help keep track of it.
 I already receive WIC benefits. Can I still apply for SNAP?
If you are eligible for WIC (Women, Infants, and Children) benefits, you are most likely eligible for these benefits as well. 
You can use your WIC benefits to buy approved staples, such as eggs, milk and cheese, and your SNAP benefits to fill in the gaps.
How often will I need to complete paperwork after I am approved?
It depends on your situation.
Some people must complete a Combined Six-Month Report form and an annual recertification form to keep getting SNAP benefits.
Some people must complete a monthly Household Report form.
Your caseworker can tell you what you will need to do. Be sure you complete and return any paperwork that you get from your county food stamps office.
What will I need to bring/have to apply for SNAP Benefits?
To apply for food stamps, you will need documents to show the following:
Social Security Number
Your Identification (Example: driver's license, school ID with photo, Passport, Resident Alien Card, I-94 card, voter's registration card)
Where you live (Example: lease agreement, utility bill, phone bill, or driver's license with your address on it)  
Income (Example: check stubs, employer statement, award letters)
Shelter costs (Example: mortgage payments, property tax, homeowner's insurance, rent receipt, lease agreement)
Costs of utilities (Example: electric bill, water bill, gas bill)
You may be asked to provide more information during your interview.
Your caseworker will explain what information is needed, how to get it and help you if you need assistance.
What keeps unqualified people from getting food stamps benefits?
To fight food stamps fraud, The USDA works closely with the states to ensure they issue their benefits correctly.
State workers carefully evaluate each application to determine eligibility and the appropriate level of benefits.
The USDA monitors the accuracy of eligibility and benefit determinations.
States that fail to meet standards for issuing their SNAP benefits correctly can be sanctioned by USDA.
In addition, as an incentive to fight fraud, states that exceed the standard for payment accuracy can be eligible for additional funding support.
People who receive SNAP benefits in error must repay any benefits for which they did not qualify.
What are the rates of fraud and abuse in SNAP?
Since the program has been established, SNAP has frequently been a target for accusations of fraud and abuse of the system.
SNAP beneficiaries are accused of cheating the system by receiving greater benefits than would befit their income status or exchanging SNAP benefits for cash.
In reality, fraud within the SNAP system is extremely low.
With the introduction of the EBT cards, most opportunities for fraud have been removed, and an electronic trail now exists to facilitate the tracing of abuses in the system.
According to a recent USDA analysis, SNAP reached a payment accuracy of 96.19% in 2012 (the highest that the program has ever seen).
Trafficking rates—the number of benefits exchanged for cash—are at 1%.
There is always room for improvement, but SNAP is currently functioning at the highest level of integrity the program has seen yet.
Can undocumented immigrants use SNAP?
No.
Undocumented immigrants are not (and never have been) eligible for SNAP benefits.
Documented immigrants can only receive SNAP benefits if they have resided within the United States for at least five years (with some exceptions for refugees, children, and individuals receiving asylum).
How Much Food Stamps Will I Get Summary
In conclusion, we hope this article on "How Much Food Stamps Will I Get" was helpful.
If so, we encourage you to share this article with anyone who may also find it helpful by using the "Share this" button below.
Questions?
Also, if you have additional questions about the SNAP Benefits or EBT, please leave those in the comments section below. We are here to help you!
Lastly, be sure to check out our other articles about SNAP & EBT, including:
Free Admissions to Museums with SNAP EBT Card
What you can buy with EBT Card
Food Stamps Income Limits for this Year
How Much Will I Get in SNAP Benefits?
9 Shocking Facts about Food Stamps