The Medicaid Transportation program covers the cost of medical transportation for eligible individuals. According to Federal regulations, Medicaid beneficiaries can get rides to and from providers when necessary. States have different rules about when rides are necessary
In this post, we are going to answer the most frequently asked questions about the Medicaid Transportation program and what you need to know about your state's program.
For details on your state's Medicaid Transporation program, see our post on Medicaid Transportation Services.
This post will cover:
Medicaid Transportation FAQs
How to Schedule Medicaid Transportation Ride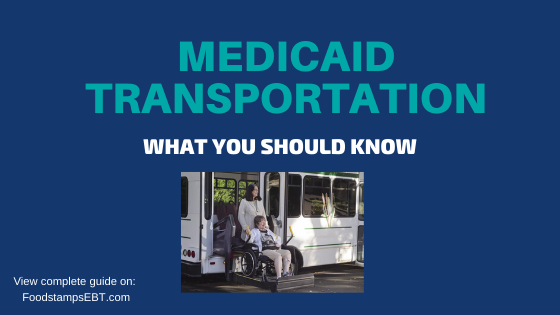 Medicaid Transportation Questions & Answers (FAQs)
Here are the most frequently asked questions we get about the Medicaid Transportation program.
Who can request Medicaid Transportation?
The Medicaid Transportation program provides Non-Emergency Medical Transportation (NEMT) to Medicaid members who need rides to and from their medical appointments and other Medicaid-covered services.
What Types of Appointments Qualify for Medicaid Transportation?
Medicaid Transportation covers a wide array of medical visit types as long as the services being provided are Medicaid covered.
Some of the most common medical needs that require medical transportation are:
Visits with primary care physicians or specialists
Dialysis services for patients with End-Stage Renal Disease (ESRD)
Substance abuse counseling sessions
Behavioral health or mental health appointments
Chemotherapy or other recurring infusion treatments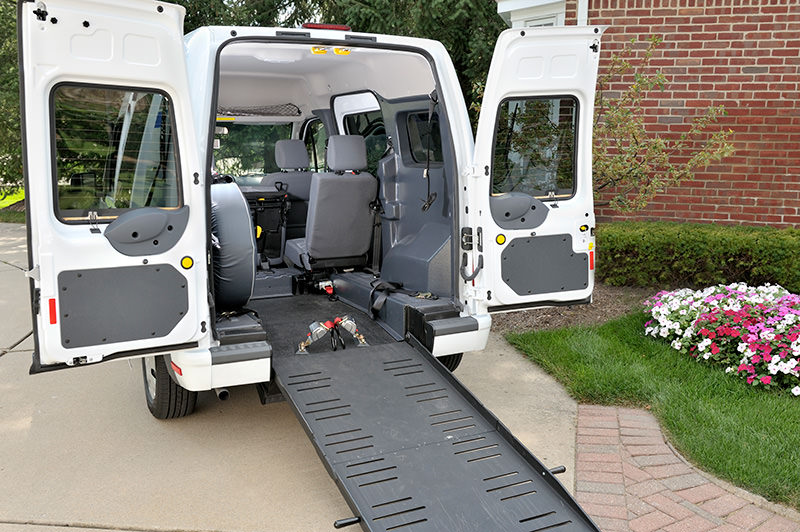 How Do I Get Approval for Medicaid Transportation?
States have different rules about when Medicaid rides are necessary.
Therefore, you should check with your state's Medicaid Agency for approval criteria.
Generally, when you enroll in Medicaid, you will receive instructions about who to call to schedule a ride. If you do not have that information, see our state-by-state guide here.
When you call your state agency or caseworker, they will review the following information with you:
• Help you decide if you have an immediate need for care
• Make sure you are eligible for Medicaid
• Verify that you have an appointment with a Medicaid provider
• Make sure that you have no other reasonable way to make it to your appointment
• Decide what type of ride Medicaid can give you for your situation.
Based on this information, your contact will either set up the ride you need or will tell you how to set up the ride yourself.
A person or ride service approved by the State Medicaid program will take you to and from your appointment.
How much notice is needed to request transportation?
This varies by state.
However, in most states, requests for routine/non-urgent Medicaid Transportation services must be pre-arranged at least two 48 hours (two (2) business days) in advance:
Generally, urgent care transport can be requested 24 hours a day, 7 days a week.
What If My Ride Does Not Show Up?
If your scheduled ride does not show up, call the number you used to set up your ride and explain the problem. The ride service should be able to help you resolve the issue.
In addition, you should call your medical provider, and explain to them why you are going to miss your appointment.
How Long Will the Driver Wait for Me?
The driver will contact you when he or she arrives at your pick-up location.
The driver will wait ten (10) minutes for you. If you don't respond in ten (10) minutes, the driver may leave and mark the trip as a "no show."
Remember. Drivers may not enter homes or facilities.
What If My Appointment Is Changed?
Should your appointment time change, call your ride service as soon as you can. Explain why you are changing your ride time and set up a new pickup time.
Can I be Picked Up from the Emergency Room?
Yes. The transportation service can pick you up from the ER once a discharge order has been issued for you. Call your state's provider and tell them you need same-day picked up from the ER.
Because of the short notice, there may be a long wait until the driver can pick you up.
Can they take me to the Emergency Room?
No. Medicaid transportation service cannot provide transportation to the emergency room.
If you are having a health emergency, you should call 911.
In an emergency, ambulance transportation is covered by Medicaid.
If you are sick and need care soon, the transportation service can take you to an urgent care clinic.
What Type of Transportation Should I Expect?
The level of service required varies based upon your needs and circumstances.
States are required to provide the least costly but most appropriate method of transportation to eligible beneficiaries.
For most patients, public transit or in a simple car or van is sufficient.
However, Medicaid Transportation also provides wheelchair-accessible transportation options as well as stretcher vans (ambulettes) if necessary.
Also, you may be provided with an ambulance if your particular circumstance calls for it.
Here are factors that may go into the type of ride you may get for a given appointment:
Types of transportation available:
a. Public Bus – if the person:
i. Lives within ½ mile of a bus stop and
ii. The medical facility is within ½ mile of a bus stop and
iii. The member can walk to and from bus stop and
iv. The member understands common signs and direction

b. Car/Minivan – if the person:
i. Cannot take the bus or walk
c. Wheelchair Van – if the person:
i. Is confined to a wheelchair or ADA-compliant scooter
ii. Requires a lift-equipped or roll-up wheelchair van
iii. Requires assistance of a trained professional
d. Stretcher – if the person:
i. Cannot walk
ii. Is confined to a bed
iii. Cannot sit in a wheelchair
iv. Does not require medical attention during transport
e. Non-Emergency Basic Life Support (BLS) or Non-Emergency Advanced Life Support (ALS) if the person:
i. Cannot walk
ii. Is confined to a bed
iii. Cannot sit in a wheelchair
iv. Requires medical attention and/or monitoring during transportation
Can I receive Medicaid mileage reimbursement?
Medicaid recipients may qualify for mileage reimbursement under certain circumstances.
The program may reimburse you for mileage, lodging, and meals at the current rate of payment (if you qualify). Call your state's Medicaid Agency for details.
For a general idea on reimbursement rates, you can see the current rates for the State of South Dakota here.
What is Standing Order Transport?
A Standing Order Transport can be created for individuals who need recurring transport to the same location.
Are Out-of-State Medicaid Transportation Rides Allowed?
Prior authorization is required in almost all states for any out-of-state Medicaid Transportation ride.
Without prior approval, your trip will not be paid by the NEMT Program.
In addition, the services must be Medicaid covered services and travel must be to the closest medical facility or medical provider capable of providing the necessary services.
What if I am enrolled both in Medicare and Medicaid?
These two programs are designed to work together.
Usually, Medicaid will pay the difference between the Medicare-approved amount and the Medicare paid amount.
Under what circumstances would my Medicaid Transport Request be denied?
If your request for medical transportation under Medicaid is denied, it may be due to one of the following reasons:
a. You are not eligible for Medicaid Transportation services on the date of service.
b. The medical service for which you requested Medicaid Transportation is not medically necessary and/or is not a Medicaid-covered service.
c. You have access to transportation of your own or through family, friends or neighbors. d. The provider you are trying to use is not enrolled in as a Medicaid Transportation provider in your state or is not a VA provider.
How Much Does the Government Spend on Medicaid Transportation?
The Medicaid transportation program is a small component of the Medicaid program.
In 2014, the government spent about $3 billion on the NEMT, which accounted for less than one percent of total Medicaid spending that year.
How much does a single trip cost?
The cost of a Medicaid transportation trip varies based on a number of factors including:
Time/distance from a patient's home to the appointment and back
The mode of transportation required
The availability of transportation options in a given area
States that employ NEMT brokers usually pay a set per-beneficiary fee to the brokers who provide necessary transport to Medicaid beneficiaries using the most clinically appropriate and cost-effective transportation option.
The chart below gives you a general idea of what an average NEMT trip may cost.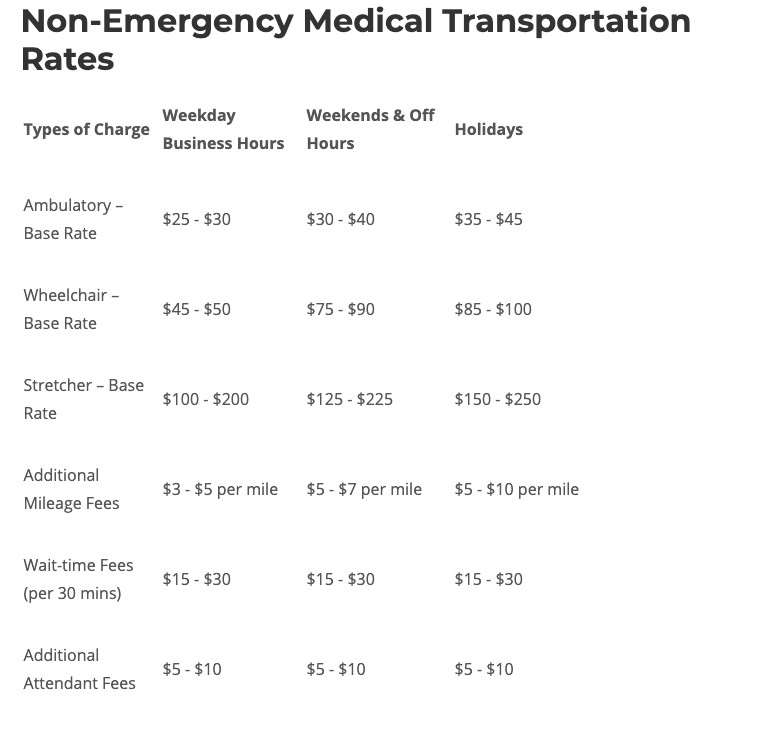 How do I report Medicaid Transportation Fraud and Abuse?
Abusing the Medicaid transportation benefit or committing fraud can land you in jail.
The following are examples of fraud and abuse of Medicaid Transportation Program:
• A driver takes someone to a nonmedical location other than their home
• Your driver takes a route that adds extra time or mileage
• Someone shares his or her Medicaid card or number with others to get medical services.
• You get a ride in an ambulance when a wheelchair or regular van would have worked
If you know of someone who is breaking the rules, including a driver, there are two ways to report it.
Option 1 – Report fraud to your State Medicaid Fraud Control Unit
Their contact information is available here
Option 2 – Report fraud to the U.S. DHHS Office of Inspector General
Office of Inspector General
U.S. Department of Health and Human Services
ATTN: Hotline
P.O. Box 23489
Washington, DC 20026
Phone: 1-800-HHS-TIPS (1-800-447-8477)
TTY: 1-800-377-4950
Fax: 1-800-223-8164
Email: [email protected]
Website: https://forms.oig.hhs.gov/hotlineoperations/
Note: You can report fraud anonymously, but it is helpful to give your phone number or email address so an investigator can contact you for more information.
If you do give your contact information, the investigators will protect your identity to the maximum extent provided by the law.
How Do I Schedule a Medicaid Transportation Ride?
Each state has different rules about Medicaid Transportation. Click here to see our state by state information on who to call to schedule your Medicaid ride.
Depending on your state, your Medicaid ride may come in the form of a taxi, car, van, public bus, or a subway.
Here's what you need to know:
You might share your ride with others.
Also, you have to call to set up your ride in advance, and you should call if you need to cancel.
In addition, the driver can give you or an eligible family member a ride only to a medical office and back home.
However, If the driver gives you a ride anywhere else, you and the driver could be charged with stealing from Medicaid.
Medicaid has strict rules about how it pays for rides. Make sure to follow the rules so Medicaid will approve and pay for your ride.
The driver sent to pick you up may be authorized to pick you up within a certain timeframe.
Therefore, it is important to:
• Be ready on time for the pickup; and
• Call the ride service to cancel a scheduled ride if you do not need the ride anymore.
NOTE: If you make a habit of not showing up for scheduled rides, you may have to make extra calls to the ride service to verify that you intend to keep your appointment.
Furthermore, Medicaid may also place additional restrictions on your ability to get a ride, like requiring you to use only one service to get your rides.
How do I Become a Medicaid Transportation Provider?
The Centers for Medicare and Medicare sets the guidelines that states have to follow in approving NEMT or Medicaid Transportation Providers.
You will have to apply to your State's Medicaid Agency and be approved, provided you meet eligibility criteria and pass the necessary background checks for you and your staff.
For more details, click here.
Questions about Medicaid Transportation Services?
Thank you for taking the time to read this article. In addition, we encourage you to post any questions you have about the Medicaid Program in the comments section below.
If you found this article on "Medicaid Transportation Questions" helpful, we encourage you to "Share This" with someone who may also find it helpful. We always appreciate your support!