If you are applying for Texas SNAP benefits and need more information about the TX income limit guideline and other eligibility requirements, we can help. The amount you get in food stamps is based on your income and eligible deductions. In this post, we are going to walk you through the income limit for food stamps in Texas, including how to calculate how much you will receive in SNAP benefits if approved.
Additionally, we will provide information on how to apply for Texas SNAP Benefits and what happens after you submit your application.
Lastly, we will answer the most frequently asked questions about food stamps in Texas.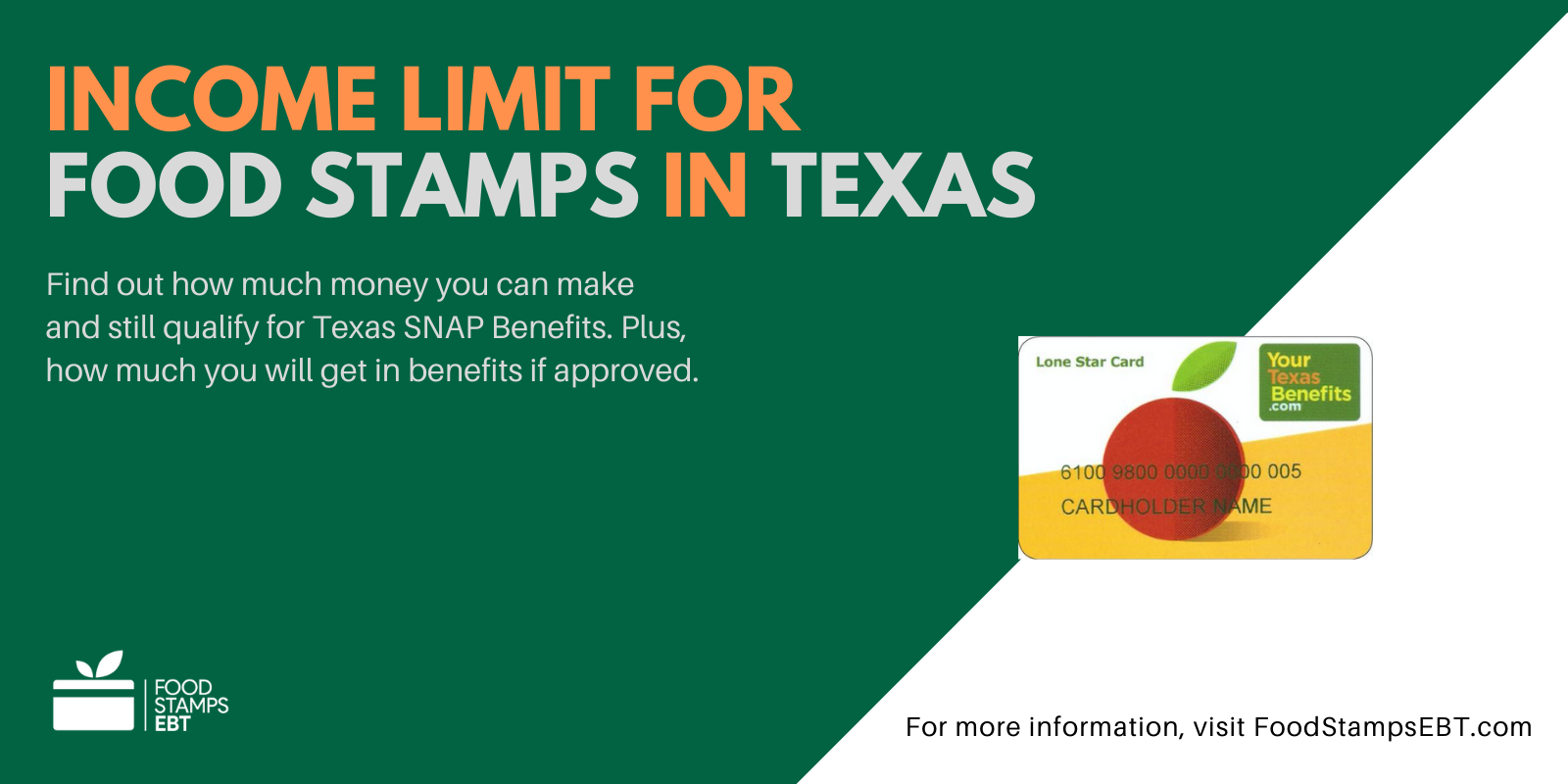 Table of Contents:
What is SNAP Benefit?
Who is Eligible for SNAP in Texas?
How do I know I am Eligible?
Income Limit for Food Stamps in Texas
How Can I apply for SNAP in Texas?
Food Stamps in Texas FAQs
What is SNAP Benefit?
SNAP (also known as food stamps) offers nutrition assistance to millions of eligible, low-income individuals and families.
Once you are approved, SNAP benefits are provided on an Electronic Benefits Transfer (EBT) card, that is used as a debit card.
EBT cards are accepted at most grocery stores, some farmers' markets, convenience, big box stores, and some online stores.
SNAP benefits generally cannot be used to buy prepared foods, vitamins, alcohol/tobacco, and non-food items (like soap or toothpaste).
Who is Eligible for SNAP in Texas?
To be eligible for SNAP in Texas, a household must meet the following eligibility requirements:
Must be a citizen or legal immigrant
Must be an Texas resident
Your household income must be less than the food stamps income limits for your household size (see chart below)
With some exceptions, you must work or participate in an employment and training program
For most households, resources must be under $2,500 to qualify for SNAP or $3,750 in countable resources if at least one member of the household is age 60 or older, or is disabled
How do I know I am Eligible?
Benefit amounts are based on household income and expenses.
To see if your household's income may qualify for SNAP in Texas, use the income limit chart below:
1. Look at the number of people in your household under "Family Size".
2. Next, look at the number in the "Maximum Gross Monthly Income" column.
3. Does your household's total monthly income before taxes fall at or below that
number?
If so, you may qualify for Food Stamps in Texas, depending on your housing and
other expenses.
To apply for food stamps in Texas, continue reading below:
Income Limit for Food Stamps in Texas
Income limits vary according to household size.
Households that contain no elderly or disabled individuals must meet both the gross (income before deduction) and the net income (income after allowable deductions) limits.
However, households that contain an elderly (age 60 or over) individual or a disabled individual must meet only the net income limits.
See the table below for both the net and gross income limits according to household size.
Texas SNAP Income Eligibility Standards for Fiscal Year 2022
Effective October 1, 2021 – September 30, 2022
Family size
Maximum Gross Monthly Income
1
$1,775
2
$2,396
3
$3,020
4
$3,644
5
$4,268
For each additional person, add:
$625
What is Counted as Income?
Income includes:
Wages
Salaries
Commissions
Social security benefits
SSI
Veteran's benefits
Child support
Contributions
Unemployment compensation, etc.
Allowable Deductions
Only the following are allowable deductions for SNAP benefits in calculating your Net Income:
Standard Deduction
The standard deduction will vary according to household size. For 2022, the minimum amount for household sizes 1 through 3 is $177.00.
It is $184 for a household size of 4 and $215 for households with 5.
The maximum amount allowed is $243 for a household of six and above.
Earned Income Deduction
This deduction is 20% of the gross earned income.
Self-Employment Deduction
Households with self-employment income are entitled to a standard deduction of 40% of the gross proceeds from the self-employment income as a cost of doing business.
Medical Deduction
Elderly and/or disabled individuals may be entitled to a medical deduction for out-of-pocket medical expenses they incur in excess of $35 per month.
Verification may be required.
Dependent Care
The costs incurred for the care of a child or other dependent in order for a household member to work, seek employment, attend training, or pursue an education that is preparatory for employment.
Child Support
Legally obligated child support paid by a household member to or for a non-household member.
Shelter Costs
These costs include rent, mortgage, property taxes, insurance on the structure, utilities, etc.
Resources
The maximum allowable resource limits for households that contain a disqualified member shall not exceed $2,500.
The resources limit is $3,750 for households containing an elderly or disabled member.
Resources include, but are not limited to:
Cash
Bank accounts
Stocks and bonds
Property
Household and recreational vehicles
Lottery, and gambling winnings of $3,750 or more, etc.
How Can I apply for SNAP in Texas?
There are 3 ways you can apply for food stamps in Texas.
Option 1 – Apply online
You can apply online through the Your Texas Benefits Portal – as shown in the image below.
If you have an account, you can log in or create your Your Texas Benefits Account. Click here to be taken to the website.
Option 2 – Apply at
HHS

 Office Near You

You can apply in person at the Texas Health and Human Services Commission (HHS) office near you. Click here to locate an HHS office.
Option 3 – Download Texas Food Stamps Application
You can download an application, complete it, and mail it to your county HHS office or submit it in person.
How to send your completed application:
Mail:
Mail your completed Texas SNAP application to:
HHSC
PO Box 149024,
Austin, TX 78714-9968
Fax:
Fax your completed Texas SNAP application to:1-877-447-2839.
If your form is 2-sided, fax both sides.
Drop it off In person:
You can drop off your completed application in person at a benefits office.
To find one near you, go to Your Texas Benefits or call 2-1-1 (after picking a language, press 1).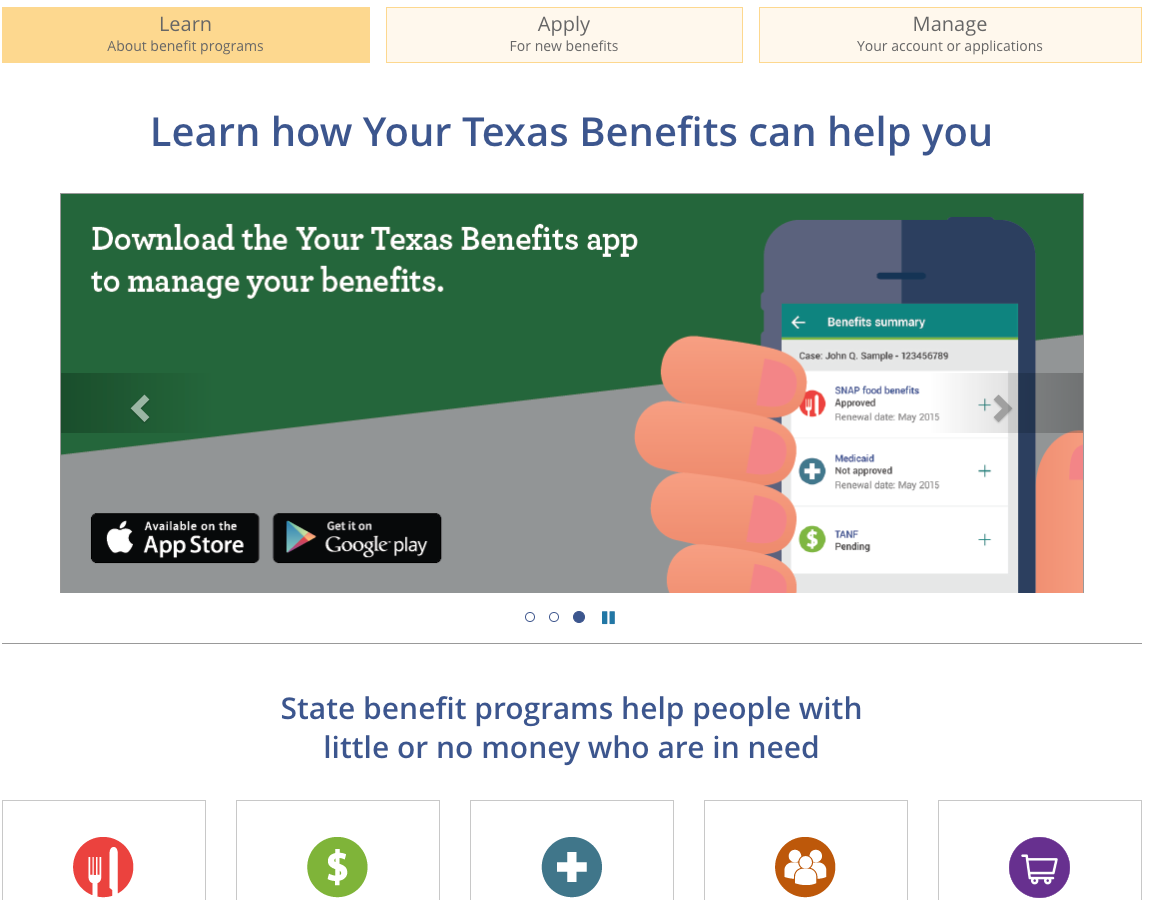 Documents you need to Apply
Be prepared to provide this information with the application:
ID card
Household income and resources
Housing costs
Current monthly expenses
If applicable, immigration status
The Texas SNAP Application Process
The application process includes:
Completing an application
Filing the form in the county in which the household lives
Being interviewed, and
Having certain information verified.
Households that meet the following criteria will have their application acted on within 7 calendar days:
Households with less than $150 in monthly gross income and their liquid resources,
The household's monthly rent/mortgage and utilities are more than the
household's gross monthly income and liquid resources;
The household is a destitute migrant or seasonal farmworker with less than
$100 in liquid resources.
All other households shall have their application acted upon within 30 days from the date they apply.
Food Stamps in Texas FAQs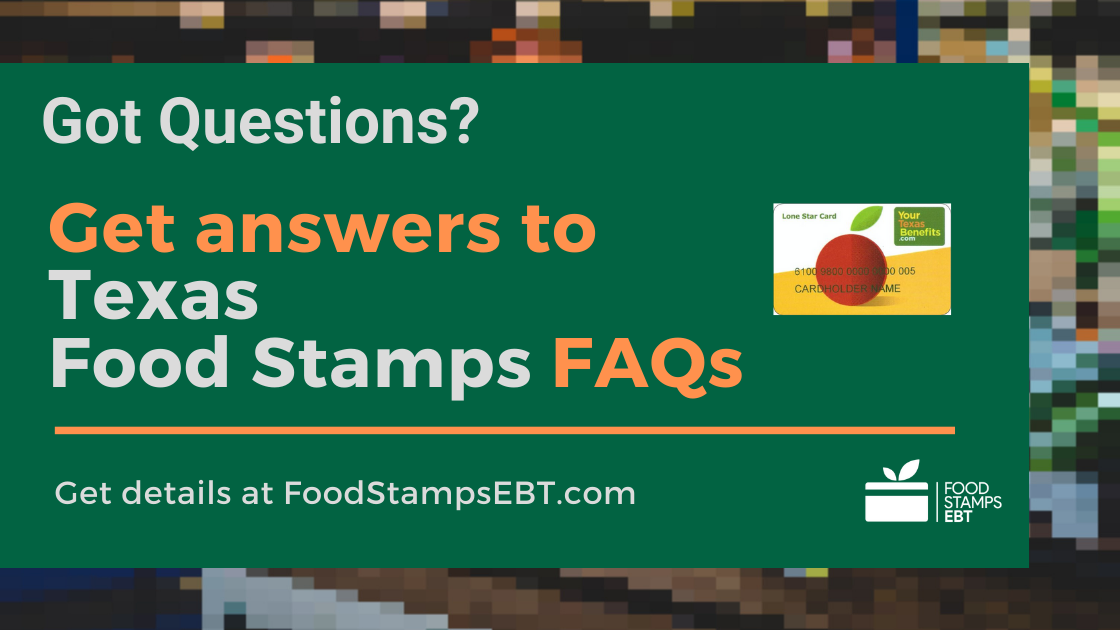 Here are the most frequently asked questions about Texas Food Stamps:
How Much Will I Recieve in Texas Food Stamps?
If you are approved for food stamps in Texas, how much in benefits you get partly depends on the:
Number of people in your household,
Total amount of your household's income, and
U.S. Department of Agriculture's (USDA) Thrifty Food Plan.
The Thrifty Food Plan is a government estimate of how much it costs to provide a household with nutritious, low-cost meals.
The table below shows the maximum SNAP benefits for households with zero income.
As your income increases, your SNAP benefit amount goes down (see below for how to calculate how much your family will receive).
| | | |
| --- | --- | --- |
| Household Size | Maximum Monthly Benefit, Fiscal Year 2022 | Estimated Average Monthly Benefit, Fiscal Year 2022 |
| 1 | $250 | $175 |
| 2 | $459 | $334 |
| 3 | $658 | $520 |
| 4 | $835 | $638 |
| 5 | $992 | $748 |
| 6 | $1,190 | $869 |
| 7 | $1,316 | $941 |
| 8 | $1,504 | $1,137 |
| Each additional person | +$188 | |
Texas Food Stamps Calculator
Here's how to calculate how much a family of 6 will get in SNAP benefits.
First, we need to start with the household income.
If you have a countable net income, multiply your net monthly income by 0.3 (30 percent).
Round up this amount to the nearest dollar.
Next, take this amount and subtract it from the maximum benefit level for a household of your size.
From the table above, the maximum a household of 6 could receive in food stamps is $1,190.
The result is the amount of your monthly food stamps benefits for a family of 6.
Here's an example:
Example: Michael and his family of four (6) have $2,000 in net income after allowable deductions.
To determine the family's SNAP benefits, take 30% of the "net income" (30% of $2,000) and subtract it from the maximum benefit, as follows:
$ 2000 Net Income for Michael's family
x .30 (Multiply by 30%)
$ 600 Countable Income
$ 1,190 Maximum SNAP for 6 persons
-$600 Countable income (round up)
$ 590 Monthly SNAP benefits for the Michael's family
Who Can Get Food Stamps in Texas?
Generally, people who fall into one of these groups can get Food Stamps:
U.S. citizens
Many legal immigrants
Citizen or legal permanent resident children of undocumented immigrants
Low-income workers
People who are homeless
People living in battered women's programs, community mental health
programs, drug and alcohol treatment centers, and homeless shelters
Can I get SNAP in more than one State?
No. Under federal guidelines, households can receive SNAP benefits from only one state at a time.
If you have recently moved to Texas, you must end your SNAP benefits in your previous state, prior to applying for SNAP in Texas.
What is the difference between a case number and an EDG number?
A case number is a number that usually includes all of the programs (for example SNAP, TANF, and health care) in a household or a family.
Most families only have one case number.
However, an EDG number (Eligibility Determination Group number) is the number assigned to each program (for example SNAP, TANF, and health care) in a case.
Therefore, it is possible to have multiple EDG numbers for different programs you are eligible for.
Will applying for benefits affect my ability to become a U.S. citizen or legal resident?
It depends on your situation.
If you are a refugee or have been given asylum, getting benefits will not affect your chances of getting a Permanent Resident Card (green card) or becoming a citizen.
Also, if you are not a refugee or have not been given asylum, you might want to talk to an agency that helps immigrants with legal questions before you apply.
Getting SNAP may not affect your immigration status or chances of getting a Permanent Resident Card.
However, if you get Medicaid long-term care services or TANF cash help, the benefits may affect your immigration status and your chances of getting a Permanent Resident Card.
How will I know when HHSC is calling me?
When HHSC calls for an interview, the caller ID will say (737) 867-7700.
You can add it to your phone contacts so you know it is HHSC calling.
How do I start using my Texas EBT Card?
Before you can use your Texas EBT card, you must:
Activate your card
Call 800-777-7328 to activate your card.
Pick or change your PIN.
You need 4 numbers for your PIN.
It is recommended that you pick numbers that are easy for you to remember, but hard for others to guess.
However, if you already have a Lone Star Card PIN, you can keep it or change it.
Keep your PIN safe. Do not write your PIN on your Lone Star Card.
Furthermore, do not keep your PIN with your Lone Star Card.
Sign the back of your Card
You can't use your card until you sign it.
What if I don't use all my Texas SNAP benefits in one month?
You won't lose your benefits if you don't use them all in one month.
Texas SNAP benefits that you don't use stay in your EBT account.
The next time benefits are put into your account, they are added to what is still in there.
However, benefits stay in your account for a year from the date they are put in your account.
Therefore, if you do not use benefits within one year after they are deposited on your Lone Star Card account, then they will no longer appear in your account.
What household changes do I need to report for my SNAP case?
If anyone moves in or out of your SNAP household. Your SNAP household refers to anyone included in your SNAP case.
Financial changes like income, rent, savings, or child support.
Changes to your address to ensure you receive important letters from HHSC. If your mail is returned to HHSC, this could cause your case to be denied.
Most households need to report changes within 10 days of the change.
However, some households do not.
Your caseworker can confirm which rules apply to your household.
Also, you can report changes online with a Your Texas Benefits account.
Income Limit for Food Stamps in Texas Summary
We hope this article on the income limit for food stamps in Texas was helpful.
If so, we encourage you to share this article with anyone who may also find it helpful by using the "Share this" button below.
If you have additional questions about the Texas SNAP or EBT, please leave those in the comments section below. We are here to help you!
Be sure to check out our other articles about Texas SNAP and EBT, including:
Texas Food Stamps Eligibility Guide
What you can buy with an EBT Card
Texas EBT Card Balance
Buying Groceries on Amazon with EBT Card
Texas EBT Guide
EBT Deposit Dates for Texas
Texas Museums For Free with EBT Card