If you are applying for California SNAP benefits and need more information about the income limit guideline and other eligibility requirements, we can help. The amount you get in food stamps is based on your income and eligible deductions. In this post, we are going to walk you through the income limit for food stamps in California, including how to calculate how much you will receive in SNAP benefits if approved.
Additionally, we will provide information on how to apply for California SNAP Benefits and what happens after you submit your application.
Lastly, we will answer the most frequently asked questions about food stamps in California.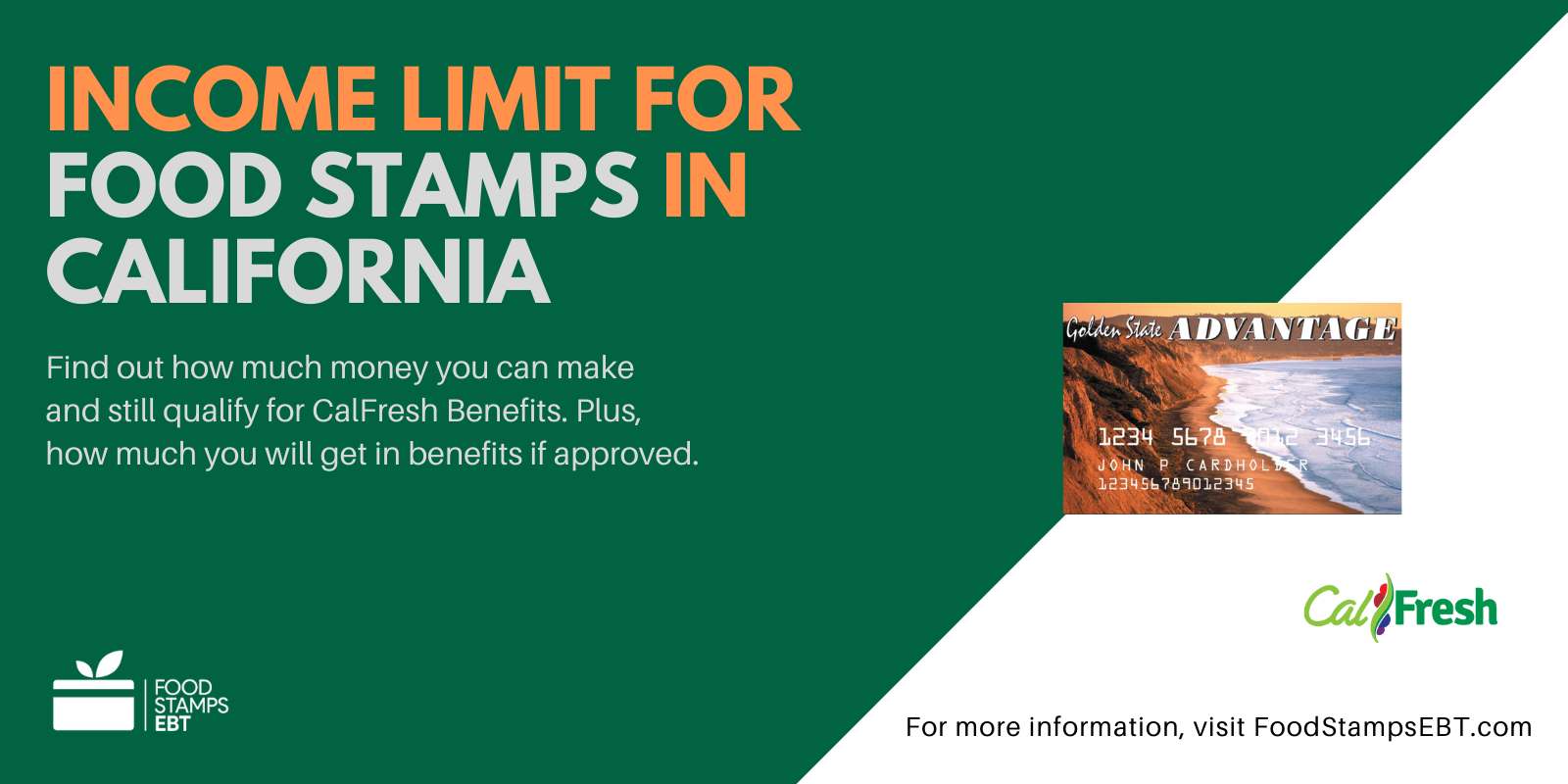 Table of Contents:
What is SNAP Benefit?
Who is Eligible for SNAP in California?
How do I know I am Eligible?
Income Limit for Food Stamps in California
How Can I apply for SNAP in California?
Food Stamps in California FAQs
What is SNAP Benefit?
SNAP (also known as food stamps or CalFresh in California) offers nutrition assistance to millions of eligible, low-income individuals and families.
Once you are approved, SNAP benefits are provided on an Electronic Benefits Transfer (EBT) card, that is used as a debit card.
EBT cards are accepted at most grocery stores, some farmers' markets, convenience, big box stores, and some online stores.
SNAP benefits generally cannot be used to buy prepared foods, vitamins, alcohol/tobacco, and non-food items (like soap or toothpaste).
Who is Eligible for SNAP in California?
Generally, California food stamps are available to low-income individuals and families who:
Are U.S. Citizens, or
Are Legal Immigrants who:
– Have lived in the U.S. for at least five (5) years, or
– Are receiving disability-related assistance, regardless of entry date, or
– Are children under 18 years of age regardless of entry date.
Meet Work and Income Requirements (see below for income limits chart).
How do I know I am Eligible?
Benefit amounts are based on household income and expenses.
To see if your household's income may qualify for SNAP in California, use the income limit chart below:
1. Look at the number of people in your household under "Household Size".
2. Next, look at the number in the "Maximum Gross Monthly Income" column.
3. Does your household's total monthly income before taxes fall at or below that
number?
If so, you may qualify for Food Stamps in California, depending on your housing and
other expenses.
To apply for food stamps in California, continue reading below:
Income Limit for Food Stamps in California
Income limits vary according to household size.
Gross income is all the income your household gets from any source except the exempt income.
For most households, the monthly gross income (before payroll deductions) must be at or below 200% of the Federal Poverty Level for the household size.
If a member of your household is disqualified because of an intentional program violation, then the 130% Federal Poverty Level will apply to your household and your resources will also be counted.
Households that contain no elderly or disabled individuals must meet both the gross (income before deduction) and the net income (income after allowable deductions) limits.
However, households that contain an elderly (age 60 or over) individual or a disabled individual must meet only the net income limits.
See the table below for both the net and gross income limits according to household size.
California Income Eligibility Standards for Fiscal Year 2022
Effective October 1, 2021 – September 30, 2022
Household Size
Maximum Gross Monthly Income
(200% of FPL)

Maximum Net Monthly Income
(100% of FPL)

1
$2,148
$1,074
2
$2,904
$1,452
3
$3,660
$1,830
4
$4,418
$2,209
5
$5,174
$2,587
6
$5,930
$2,965
7
$6,688
$3,344
8
$7,444
$3,722
​9
$8,202
$4,101
​10
$8,960
$4,480
Each additional member
+$758
+$379
What is the Definition of a Household?
An individual living alone.
An individual living with others but who buys food and cooks meals separately.
A group of individuals living together who buy food and cook meals together.
Parents living with their children 21 years old or younger (married or unmarried, with their own children or not) must apply as one household.
Adult children (22 years or older) living with their parents can have a separate household as long as they buy and cook their meals apart from the parents.
A woman or a woman with children living temporarily in a battered woman's shelter.
What is Counted as Income?
Income includes:
Wages
Salaries
Commissions
Social security benefits
SSI
Veteran's benefits
Child support
Contributions
Unemployment compensation, etc.
Allowable Deductions
Only the following are allowable deductions for SNAP benefits in calculating your Net Income:
Standard Deduction
The standard deduction will vary according to household size. For 2022, the minimum amount for household sizes 1 through 3 is $177.00.
It is $184 for a household size of 4 and $215 for households with 5.
The maximum amount allowed is $243 for a household of six and above.
Earned Income Deduction
This deduction is 20% of the gross earned income.
Self-Employment Deduction
Households with self-employment income are entitled to a standard deduction of 40% of the gross proceeds from the self-employment income as a cost of doing business.
Medical Deduction
Elderly and/or disabled individuals may be entitled to a medical deduction for out-of-pocket medical expenses they incur in excess of $35 per month.
Verification may be required.
Dependent Care
The costs incurred for the care of a child or other dependent in order for a household member to work, seek employment, attend training, or pursue an education that is preparatory for employment.
Child Support
Legally obligated child support paid by a household member to or for a non-household member.
Shelter Costs
These costs include rent, mortgage, property taxes, insurance on the structure, utilities, etc.
Resources Requirement
Effective February 1st, 2011, assets for most CalFresh applicants and recipients will not be considered or verified to determine eligibility for CalFresh.
There is an exception for certain elderly or disabled households.
However, any income generated from resources (e.g. bank account interest, stock dividends, rental income, etc.) is counted as part of the household's total gross income.
How Can I apply for SNAP in California?
There are 3 ways you can apply for food stamps in California.
Option 1 – Apply online
You can apply online through the California benefitscal.com website (as shown in the image below).
Depending on your county of residence, you will be redirected to one of the following websites to apply:
MyBenefits CalWIN
YourBenefitsNow
Additionally, you may apply for CalFresh online at getcalfresh.org.
Option 2 – Apply at CDSS Office Near You
You can apply in person at the California Department of Social Services (CDSS) office near you. Click here to locate a CDSS office.
Option 3 – Download California Food Stamps Application
You can download an application, complete it, and mail it to your county CDSS office or submit it in person.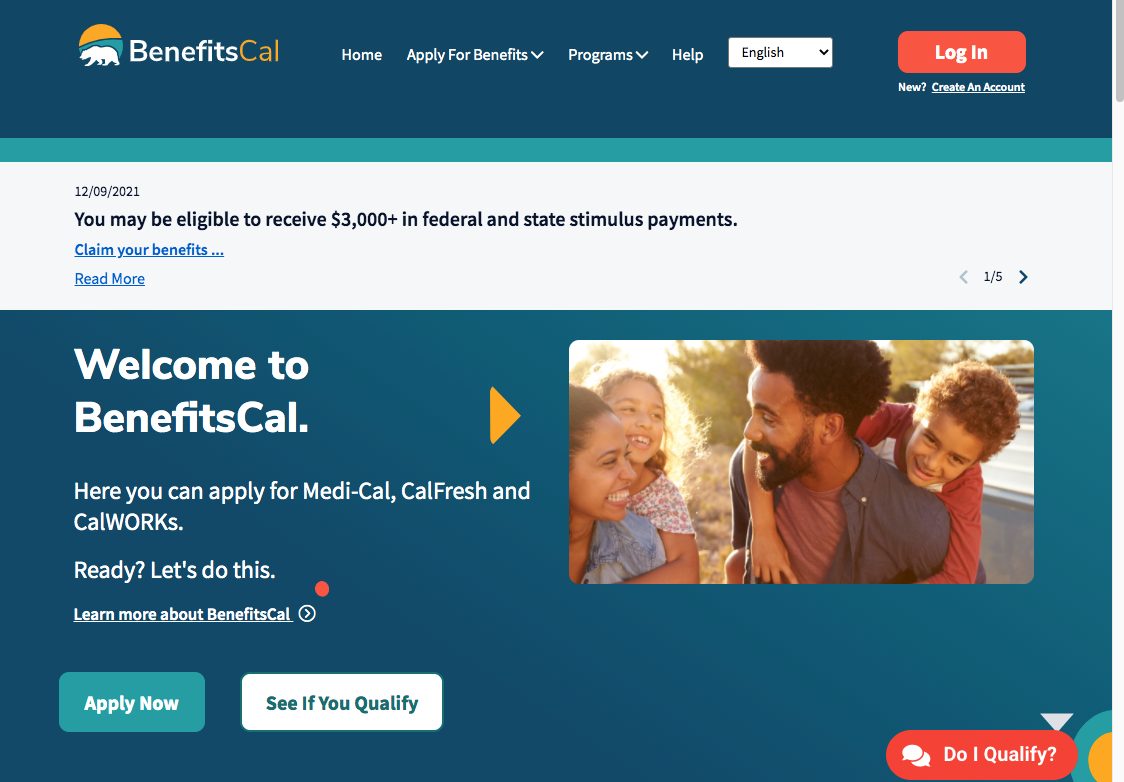 Documents you need to Apply
Be prepared to provide this information with the application:
ID card
Household income and resources
Housing costs
Current monthly expenses
If applicable, immigration status
The California SNAP Application Process
The application process includes:
Completing an application
Filing the form in the county in which the household lives
Being interviewed, and
Having certain information verified.
Some households may receive food assistance within three business days after submitting an application.
To qualify, you must provide identification and meet all other CalFresh requirements plus one of the following:
Your household makes less than $150 in monthly income and has less than $100 on hand right now.
Your household's combined monthly income and money on hand are less than your household's combined monthly rent and utilities.
You are a migrant or seasonal farmworker and have less than $100 on hand right now.
All other households shall have their application acted upon within 30 days from the date they apply.
Food Stamps in California FAQs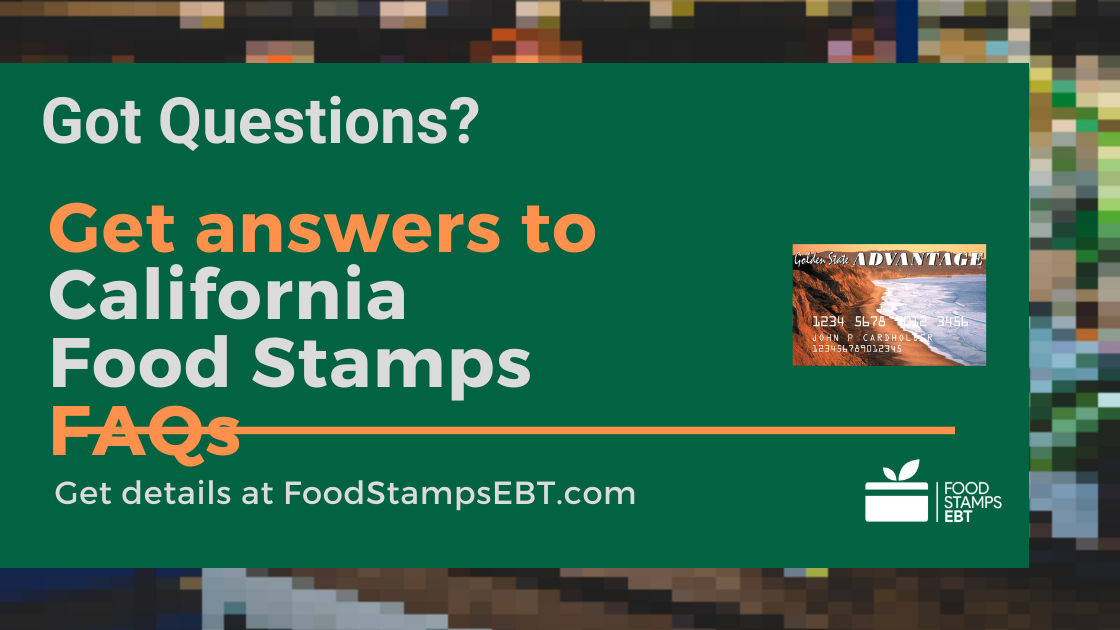 Here are the most frequently asked questions about California Food Stamps:
How Much Will I Recieve in California Food Stamps?
If you are approved for food stamps in California, how much in benefits you get partly depends on the:
Number of people in your household,
Total amount of your household's income, and
U.S. Department of Agriculture's (USDA) Thrifty Food Plan.
The Thrifty Food Plan is a government estimate of how much it costs to provide a household with nutritious, low-cost meals.
The table below shows the maximum SNAP benefits for households with zero income.
The minimum CalFresh benefit you can receive is $19 a month.
As your income increases, your SNAP benefit amount goes down (see below for how to calculate how much your family will receive).
Household Size
Maximum Monthly Benefit,
Fiscal Year 2022
1
$19-$250
2
$19-$459
3
$19-$658
4
$19-$835
5
$19-$992
6
$19-$1190
7
$19-$1316
8
$19-$1504
Each additional person
$19-+$188
California Food Stamps Calculator
Here's how to calculate how much a family of 6 will get in SNAP benefits.
First, we need to start with the household income.
If you have a countable net income, multiply your net monthly income by 0.3 (30 percent).
Round up this amount to the nearest dollar.
Next, take this amount and subtract it from the maximum benefit level for a household of your size.
From the table above, the maximum a household of 6 could receive in food stamps is $1,190.
The result is the amount of your monthly food stamps benefits for a family of 6.
Here's an example:
Example: Michael and his family of four (6) have $2,000 in net income after allowable deductions.
To determine the family's SNAP benefits, take 30% of the "net income" (30% of $2,000) and subtract it from the maximum benefit, as follows:
$ 2000 Net Income for Michael's family
x .30 (Multiply by 30%)
$ 600 Countable Income
$ 1,190 Maximum SNAP for 6 persons
-$600 Countable income (round up)
$ 590 Monthly SNAP benefits for the Michael's family
Who Can Get Food Stamps in California?
Generally, people who fall into one of these groups can get Food Stamps:
U.S. citizens
Many legal immigrants
Citizen or legal permanent resident children of undocumented immigrants
Low-income workers
People who are homeless
People living in battered women's programs, community mental health
programs, drug and alcohol treatment centers, and homeless shelters
Can I get SNAP in more than one State?
No. Under federal guidelines, households can receive SNAP benefits from only one state at a time.
If you have recently moved to California, you must end your SNAP benefits in your previous state, prior to applying for SNAP in California.
What other Benefits Am I Eligible for in California?
In addition to CalFresh, you could also apply for other benefits, including:
Medi-Cal
Health coverage
CalWORKs
Cash assistance for families with children
JobsNOW!
Employment services
How do I keep my CalFresh Benefits?
To keep your CalFresh benefits, you must meet the following requirements:
CalFresh work rules
The state of California has waived the CalFresh work rule until June 30, 2022.
Therefore, during this period, no CalFresh recipients will be required to work in order to receive benefits. Check back in June 2022 for an update.
SAR 7 (Eligibility Status Report)
Every six months, you must complete and submit a SAR 7 Form to report changes that could impact eligibility, such as changes in income, household composition, and/or expenses.
Your county Social Services Agency will mail you the form before the due date. You can mail it back to them or submit it online.
Annual recertification
Each year, you must renew your eligibility on time in order to keep continuously receiving CalFresh benefits.
Your county Social Services Agency will mail you a recertification Form CF 37 before the submission due date.
Your caseworker will interview you by phone and help you complete the form. You may also be able to recertify online.
Can SSI/SSP recipients get CalFresh?
As of June 1st, 2019, SSI/SSP recipients may be eligible to receive CalFresh in addition to receiving a monthly SSP benefit.
What if no one in my household is a U.S. citizen?
You may still qualify for CalFresh if you or someone in your household has a Green Card, or is a lawful permanent resident (LPR).
For additional information see the USDA Food and Nutrition Service policy on Non-Citizen Eligibility at https://www.fns.usda.gov/snap/eligibility/citizen/non-citizen-policy.
See how you can use your California EBT Card online.
Income Limit for Food Stamps in California Summary
We hope this article on the income limit for food stamps in California was helpful.
If so, we encourage you to share this article with anyone who may also find it helpful by using the "Share this" button below.
If you have additional questions about the California SNAP or EBT, please leave those in the comments section below. We are here to help you!
Be sure to check out our other articles about California SNAP and EBT, including:
California Food Stamps Eligibility Guide
Buying Groceries on Amazon with EBT Card
California EBT Card Balance
How much in food stamps can I get?
California EBT Guide
EBT Deposit Dates for California